HOME | TAMPA DIVORCE LAWYER BLOG | SCHEDULE AN APPOINTMENT


High Asset Divorce Lawyer, Tampa, Florida Serving Hillsborough, Pasco & Pinellas County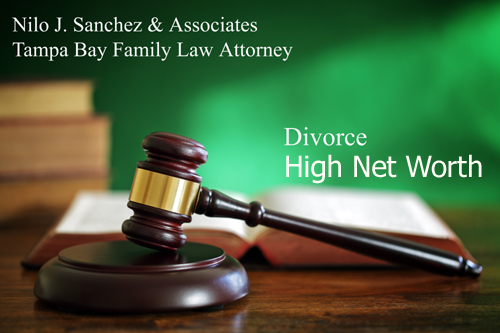 To Discuss your High Asset Divorce with Mr. Sanchez, Contact our Tampa Divorce and Family Law Firm at 813-879-4600.


Nilo J. Sanchez & Associates focuses on handling high asset divorces and family law litigation. Our firm has over 23 years experience with complex, high asset divorces in Tampa Bay. With nearly two decades of experience and knowledge in high net worth divorces, our firm has a keen understanding of the issues involved in high asset divorce.

If you are considering a divorce and require a solutions based and dedicated divorce lawyer, Nilo J. Sanchez & Associates will provide preparation, research and will help our clients reach equitable resolutions in most cases. Often times however, a settlement may not be reached and if this occurs, you can be confident that our trial experience and ability to fight for your best interests in court will be of high value to you.


High Asset Divorces & Division of Assets
If money complicates things, nowhere is this maxim more true than in high asset divorces. The fact is, wealthy spouses getting a divorce face many more complex issues than other couples. At the Law Office of Nilo Sanchez & Associates, you will find a lawyer who is experienced and prepared to represent you in every aspect of your divorce.

High asset divorces can come with a variety of complex issues concerning business and property values. In Florida, property values fluctuate rapidly and therefore it is important that you hire a Tampa divorce lawyer who understands these matters which can become complicated. You have worked hard to build your business and to build your portfolio, and it is our job to ensure it is well protected during your divorce. Financial experts when necessary can be utilized to make sure your interests are protected and Mr. Sanchez will fight aggressively to ensure the best results in your high net worth divorce case.

In general, all assets acquired and liabilities incurred by either spouse after the date of marriage and that are not otherwise classified as non-marital, are presumed to be marital assets and liabilities and are subject to distribution between both parties by the Court. If your divorce is considered a high asset divorce, you need a Tampa divorce lawyer who can aggressively handle your case. Characterization of assets can have a dramatic effect on the way it will be divided. We help clients who may have divorces involving intellectual property, business interests, reimbursements, inheritances and other assets. Complicated tax issues can permeate a high asset divorce. Nilo J. Sanchez & Associates has the legal and financial experience to minimize your tax consequences.

Consult with Tampa High Net Worth Divorce Attorney Nilo J Sanchez & Associates - 813-778-9548
Nilo Sanchez

Find us on Google+

Read More About: