HOME | TAMPA DIVORCE LAWYER BLOG | SCHEDULE AN APPOINTMENT


Child Custody Attorney,Tampa, Florida
AVVO Top Rated Divorce & Custody Lawyer, Tampa, FL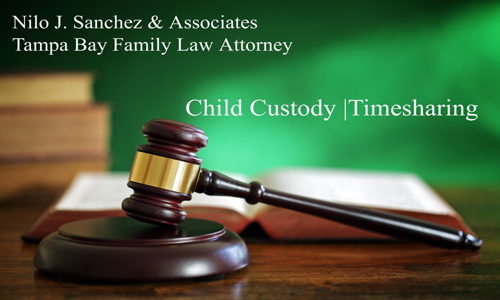 Child Custody Attorney Will Help You Establish, Enforce Child Custody in Tampa, South Tampa, Carrollwood, Brandon, Lutz, Land O' Lakes, Florida

Child support lawyer Nilo J. Sanchez, Jr. located in Tampa, Florida represents clients who need legal assistance
setting child support
or
establishing child support
. We understand how important your child support is and if you have not been receiving your court ordered support, we can file the proper motions with the courts for the
enforcement of child support
. If you have a current order for child support and believe that you have had a substantial and permanent change in circumstances including any time-sharing issues that may have an affect on your child support obligation or your ability to pay, please contact our office to discuss your options and to obtain help with
modifying your current Florida child support order
. Remember, it's generally in your best interest to ask the courts for a modification of child support rather than to simply fall behind on your child support payments. Child support is crucial to the financial security of your children and Florida Law requires that both parents pay according to the support guidelines.

Child Custody & Timesharing

Child Custody lawyer Nilo Sanchez & Associates in Tampa understands that child custody cases can often be very emotional and complex. Hiring a child custody lawyer in Tampa to ensure that timesharing, visitation, child custody and child support are handled aggressively is important in any child custody or divorce case.


Serving St. Pete, 24 years handling child custody cases in the Tampa bay area, therefore, you can be confident that you are hiring a Tampa family law attorney who is experienced in this particular area. We will do our very best to ensure that you are receiving the best assistance for your child custody case. If you would like to consult with our family law firm about hiring Nilo J. Sanchez as your Tampa child custody lawyer, please call us to schedule a consultation. Attorney Sanchez represents clients in child custody cases in Tampa, St. Petersburg, Clearwater or Pasco County, Florida. Contact our law firm for a consultation.

If you need an experienced divorce or family lawyer in Tampa who will handle your child custody case, Nilo Sanchez & Associates located in Tampa Bay has the extensive experience you need. We know that your family is important to you and you deserve to be represented by a Child Custody Lawyer in Tampa who can litigate matters such as establishing paternity, timesharing and visitation, child support, modification of divorce orders including the relocation of the children as well as paternity and other family law matters. Nilo Sanchez & Associates is a divorce lawyer located in Tampa, Florida who will provide resolutions that are in the best interest of all parties involved.

Protecting your parental rights while insuring that the children's best interests are at the forefront takes a seasoned Tampa child custody lawyer and one that understands the complexity of some child custody cases. We know that when parents are dealing with child custody and divorce it is often times a very emotionally charged time. Child custody lawyers in Tampa bay who represent clients who are divorcing and need assistance with time sharing, visitation and even modifications of child custody orders should be experienced in litigating child custody and be family law specialists.

Nilo Sanchez & Associates is a compassionate yet aggressive child custody and divorce lawyer in Tampa who you can depend upon for all of your family law needs. Please call our office for a consultation at (813) 879 4600. For additional information about hiring a child custody lawyer in Tampa, please visit our contact us page.